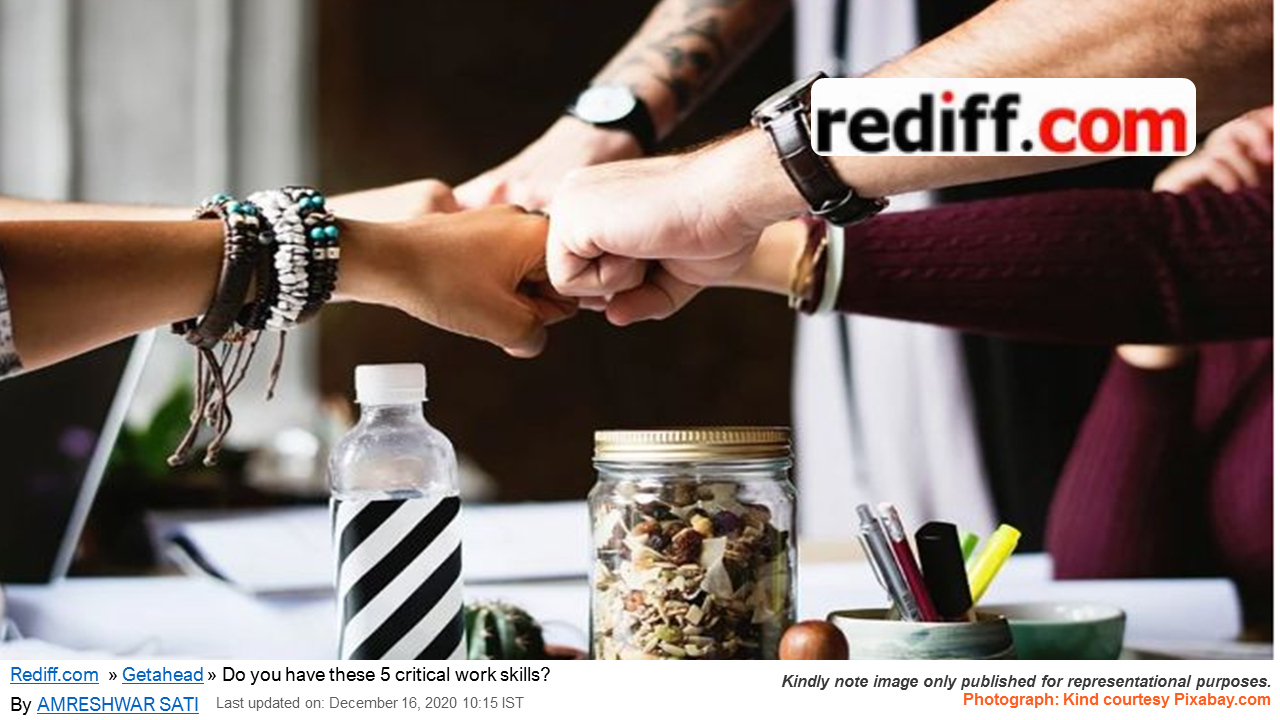 It is high time to stop playing it safe, overcome our fear of failure and think of becoming entrepreneurs, advises Amreshwar Sati, COO, iE3 Innovations.
Even (Greek philosopher) Heraclitus may not have imagined the magnitude of changes witnessed by mankind in 2020!
The current pandemic has taught us many lessons and has changed the way we live, think, and the way we do business.
These learnings can only be imbibed after experiencing them, like our generation has and this cannot be taught in any school. It happens only once in a lifetime.
We have all evolved in the New Normal and the way we are evolving resonates with Darwin's theory of survival of the fittest.
To be the fittest, we need to quickly learn, sharpen, and imbibe the following five critical work skills/ attributes which can be gamechangers for any professional:
1. Adapt and innovate
We all need to be flexible and be ready to adapt to the New Normal and not be tied down with the way we did things in the past.
Along with adapting, we must also think out of the box, ie, Innovate to achieve desired results.
2. Emotional Quotient (EQ)/Emotional Intelligence
Businesses have gone through stressful times in 2020 and therefore we all should improve our EQ and put our emotions to best (positive) use by relieving stress, diffusing conflicts, and communicating effectively for best results.
High EQ can be achieved by improving parameters such as empathy, motivational and social skills.
3. Resilience
To stay relevant, one must be resilient as the work environment is constantly changing and one must have this skill imbibed to sustain in this VUCA (Volatility, Uncertainty, Complexity and Ambiguity) World.
To stay ahead of the curve, one must have the ability to bounce back when faced with hurdles, think differently and use lateral and critical thinking for problem solving.
4. Digitisation, Reskilling/Upgrading
Technology is leading the way in the New Normal.
Everything is going digital. In today's world, a successful manager will be the one who is well versed with all the different tech platforms being used to carry out day-to-day activities and business operations.
Hence, it's imperative for today's professional to upgrade or reskill and become digitally savvy.
5. Risk taking abilities
I personally believe this aspect needs a lot of introspection.
Being risk averse will no longer help us get ahead. We all must have that entrepreneurial mindset and get out of our comfort zones to stand out and shine.
This pandemic witnessed many losing their jobs, settling for pay cuts.
It is high time to stop playing it safe, overcome our fear of failure and think of becoming entrepreneurs.
Live your dreams and work towards your personal goals. Go out there and play with fire!
2020 has been difficult for all of us and the road ahead is uncertain.
None of us are sure where this road will lead us to. But like I have always advised and practiced — take the 'road less travelled' and don't be afraid of it.
Here I am reminded of these few lines from Robert Frost's poem The Road Not Taken
Two roads diverged in a wood, and I —

I took the one less travelled by,

And that has made all the difference.
————-<><><><>————–
Author: Amreshwar Sati is COO, iE3 Innovations, a technology firm
Pubished on: